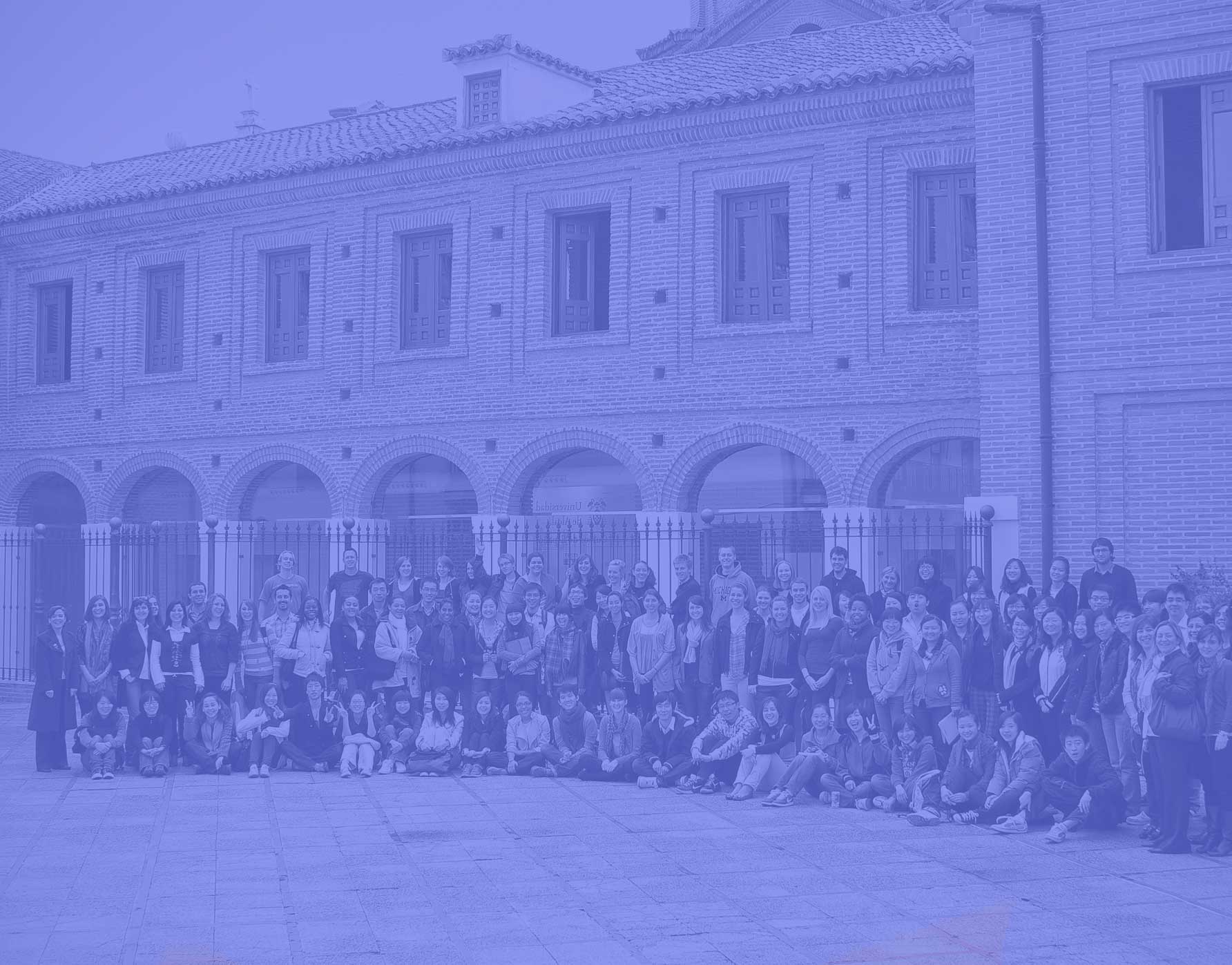 Regulations
1. Normativa de Alcalingua
Para garantizar el correcto desarrollo de la experiencia educativa así como el respeto hacia las personas o valores del centro, Alcalingua tiene esta normativa de obligada lectura y cumplimiento. El documento está disponible para su consulta y descarga en la página web.
2. Cuestiones administrativas
2.1.

Dates and prices
The specific dates and prices for the forementioned courses will be those which appear in the official Alcalingua website: www.alcalingua.com
2.2. Antelación para matricularse
The deadline for the registration in the courses of Alcalingua is:
7 days bebore the course starts in case of accommodation booking
1 day if the accommodation booking is not necessary




En caso de tener que tramitar el visado, será el tiempo que necesite la embajada para completar el trámite.
Students will start the program on the indicated dates, both for the level test and the courses themselves . Those who wish to begin on a date outside the set calendar will be subject to availability . Under no circumstances will course prices be changed .
2.3. El precio de los cursos regulares incluye
La matrícula de los cursos regulares incluye:
Student textbook and exercise booklet
Guided tour of the city of Alcalá

L

anguage level examination

La expedición de diploma

A student ID card that enables the use of all University facilities, including access to libraries and computer labs
The extra acamedic activities done in the building
2.4.

Visa and Residence Permit Procedures
Those students who need to ask for student visa (D type) in the Spanish Embassy will need an admission letter from the Universidad de Alcalá , which will be dispatched as soon as the student makes the full payment of the course fees .
In this document personal details of the student, passport number and the period of study in Lingua as well as the accommodation address will be certified .
Therefore, the reserved and paid period will appear on the official certificate issued by Lingua to start consular procedures .
2.5.

Reimbursement
Alcalingua will discount 10%, (procedures fees), of the received payment in the case that the student visa is denied by diplomatic or consular officials. Prior to such reimbursement, the fol lowing documentation must be presented:
Original document of the rejection issued by the Embassy or Consulate.
Original documents sent by Alcalingua - Universidad de Alcalá .
There will be no other cause for reimbursement, under any circumstances
2.6.

Cancellation Policy
If the student decides to cancel the program once the registration fee has been paid, Alcalingua shall apply one of the following criteria regarding reimbursement:
70% reimbursement if the program is cancelled more than 30 days prior to class start date.
50% reimbursement if the program is cancelled 30 days or less prior to class start date.
No reimbursement will be made once the program applied for has started. In that case, if consular procedures are involved , the Spanish Embassy will be immediately notified in order to refuse a visa request
2.7. Expulsión del centro
A student may be expelled from the center and therefore the current contract it has signed automatically be terminated if their performance is inadequate if:
The student causes mental or physical harm to classmates, teachers, other school staff, host familie s, university residences staff or anyone else.





The student causes any physical damage in the building , in the accommodation arranged by Alcalingua or in any place (s)he visits during his / her stay in the school.





The student publicly exhibits racist, sexist or violent attitudes.





The student uses repeatedly inappropriately the services provided by Alcalingua.





The student is involved in legal problems with the Spanish authorities, caused by him / her during his / her period of study in Lingua.
Cancellation Policy In these cases no amount will be refunded the course . The cost of repatriation, payment of damages, if any, and legal assistance, if required, are responsibility of the student . Alcalingua will not take responsability for any economic charge derived from the breach of the regulations .
3. Cuestiones académicas
3.1. Niveles
Alcalingua ofrece todos los niveles del Marco Común Europeo de Referencia. Desde el inicial hasta el superior.
Hasta el momento en que se realiza la prueba de nivel, el primer día del curso, Alcalingua no puede garantizar que se alcance el número mínimo de 8 alumnos para que se abra un grupo. Si no se alcanza, el centro ofrecerá soluciones alternativas. En caso de que no sean del agrado del alumno, Alcalingua devolvería el importe del curso.
3.2. La prueba de nivel
La prueba de nivel es el instrumento del que se sirve Alcalingua para situar a los alumnos en el nivel adecuado y así garantizar el máximo aprovechamiento del curso, por lo que es una prueba que todo alumno debe hacer obligatoriamente.
La prueba de nivel solo se hace a la llegada al centro, por tanto, es independiente del número de cursos en los que el alumnos se haya matriculado. La prueba no se puede repetir.
En caso de estar disconforme con el nivel obtenido en la prueba, el alumno deberá dirigirse a Coordinación.
3.3. Cambios de turno
Alcalingua asignará los turnos (mañana o tarde) de los alumnos según sus necesidades de planificación académica.
Aquellos alumnos que contraten más de un curso deben tener en cuenta que su turno puede cambiar de un curso a otro.
Solo aquellos alumnos que estudien en la UAH podrán solicitar cambio de horario. Es posible que desde el centro se requiera un justificante de matrícula.
3.4. El material didáctico
Alcalingua hará entrega del material didáctico en la primera semana del curso. Además, se le proporcionarán las claves para acceder al Aula virtual.
El Aula virtual es el centro de recursos creado por los profesores del centro para compartir con sus grupos el material de trabajo. En él se encuentran las actividades del portfolio, los dossieres para las clases de cultura (en caso de que hayas contratado un curso de Lengua y Cultura) y la información sobre las actividades extraacadémicas.
Es obligatorio llevar todo el material didáctico a las clases, ya sea en formato papel o digital.
3.5. Teléfonos móviles y aparatos electrónicos
No está permitido el uso de móviles, tabletas, etc. durante las clases, a no ser que la actividad sugerida por el profesor lo incluya expresamente.
3.6. Las actividades extaacadémicas
Estas actividades, diseñadas para ser realizadas de modo complementario a los cursos regulares, están pensadas para potenciar la inmersión y contribuir de forma activa al aprendizaje de la lengua y la cultura española.
Toda la información sobre las actividades extraacadémicas está en la página web del centro: www.alcalingua.com.
3.7. La evaluación
Alcalingua courses are structured in accordance with the European Credit Transfer and Accumulation System (ECTS) proposed by the European Higher Education Area (EHEA), which is a measure of the time spent by students in acquiring the competences defined in the curriculum. These credits not only reflect classroom attendance and participation, but also the time spent in individual study, completing set work and taking part in cultural and social activities included in the programme, etc.
En el curso de Lengua (Lengua y comunicación y Destrezas orales y escritas) cada alumno tendrá su propia carpeta de trabajo (Portfolio) que deberá recoger todo su trabajo del curso.
La nota final se basará en los siguientes elementos:
Trabajo continuo: 35%
Asistencia y participación: 25%
Examen parcial: 20%
Examen final: 20%
La escala de evaluación de Alcalingua-UAH es la siguiente (Calificación ECTS. Calificación española):
A+: Matrícula de Honor. 10.
A: Sobresaliente. 10; 9,5; 9.
B: Notable. 8,5; 8.
C: Notable. 7,5; 7.
D: Aprobado. 6,5; 6. 5,5; 5.
F: Suspenso. 4,5; 4; 3,5; 3; 2,5; 2; 1,5; 1; 0,5; 0.
Abs: No presentado. 0.
En los cursos de Cultura, por lo general, las asignaturas se evalúan a través de exposiciones orales y/o trabajos escritos sobre alguno de los temas tratados durante el curso. Queda a decisión del profesor la realización de una prueba o examen final.
3.8. Reclamaciones
En caso de que el estudiante desee reclamar alguna de las calificaciones obtenidas, deberá comunicarlo en Coordinación.
3.9. Certificados y diplomas
Al terminar el curso, siempre y cuando se haya cumplido con la asistencia, se entregará un diploma en el que aparece el logotipo de la Universidad de Alcalá y de Alcalingua. En él figuran los datos del alumno, el nombre del curso, el nivel, el número de horas realizadas y la fecha.
Además, se entregará un certificado de notas, que es el documento oficial para el reconocimiento de los créditos por parte de las Universidades.
3.10. Asistencia y retrasos
El número máximo de ausencias no justificadas no podrá ser superior al 10% de las horas de cada una de las asignaturas. En caso contrario se perderá el derecho a la evaluación, la obtención de certificado y el acta.
Cualquier ausencia deberá ser comunicada y debidamente justificada (con los documentos oficiales que procedan) a los profesores. Ellos indicarán el procedimiento a seguir.
Si el alumno llega más de 10 minutos tarde a clase, el profesor podrá contarlo como una falta sin justificar.
3.11. Cancelaciones
Una vez comenzado el curso o programa no se puede cancelar ninguna asignatura.
4.

Accommodation
4.1.

Accommodation with a host family
In the family environment, Spanish is the only language that should be spoken. Moreover, family members will be Spanish native speakers. 
Payment of services should be done directly through Alcalingua.
A student can request a change of host family if living together is clearly unviable. A family can do the same by requesting that the student not live in their house anymore.
Laundry and ironing services are included in the established price.
Students should have a set of keys to the residence and should be free to enter and leave the residence as long as it doesn't disturb the family environment.
Families should have the student's room ready the day that the student arrives

.

The student's bedroom should have as minimum a bed (with sheets, blankets, etc.), a closet, and a desk. The family should take care of cleaning the room. Likewise, the student is obliged to keep their room organized and not to cause any damage.
On the days that they go on trips, students on full - board should receive a packed lunch (sandwiches, fruit ... ) from their family .
Students need to let their families know at least one week in advance if they are going on a trip lasting more than 3 days.
Students should inform the family of the type of medical insurance they have as well as any illness, allergy, etc . that they suffer from so that the family can act accordingly.

La familia ofrecerá al estudiante conexión gratuita a Internet, preferiblemente por Wi-Fi.

Aquellos estudiantes que quieran cambiar el alojamiento solicitado inicialmente, sin causa justificada, tendrán una penalización de 50 €.
4.2.

Rules for staying with a family
The coexistence between students and host families should be based on mutual respect and tolerance . Students should be familiar with and respect, as far as possible, the customs of each family, for example the schedule of meals . Families should let the student know about these customs from the first day:
At least one of the members of the family should pick up and spend the first day with the student that is going to live in their residence . The objective is to ensure that the student isn't alone upon their arrival to Alcalá de Henares .
Students can cook for themselves if it is alright with the family

.

Los estudiantes tendrán libertad de horarios para entrar y salir de la vivienda familiar, siempre y cuando no se altere la convivencia. El alumno debe respetar los horarios de las comidas y las familias adaptarán estos al horario académico del estudiante; el estudiante avisará a la familia, con tiempo suficiente, su ausencia a alguna de las comidas, posibles excursiones en las que va a participar, viajes, etc.

Students should pay attention to their personal hygiene, paying special attention not to waste water, especially hot water, and they should help to keep the house organized and clean.
The host families should keep the house in perfect condition and should provide the student with the appropriate means to maintain cleanliness.
The student will be able to receive their mail in the family residence, but they won't have the right to the mailbox key.
The use of the telephone depends on the conditions set by the family . The student cannot use it without the expressed authorization of the family.
4.2.1.

Specific policies for vegetarian students living with a host family
The family should be familiar with the type of vegetarian the student is from the beginning.
The student should indicate to the family the foods that they like to eat as a vegetarian.
The price of accommodation with a family for vegetarian foreign students should be the same as that of non - vegetarian students.
4.2.2.

Specific policy for diabetic students living with a host family
The family should be informed from the beginning about the diabetic condition of the student as well as the medication and materials they use . Insulin should be kept away from high temperatures.
The student should indicate to the family what kind of specific food they need to eat for their diabetic condition.
The price of accommodation with a family for diabetic foreign students should be the same as that for non - diabetic students.
The family should ventilate the residence well, avoiding an excess of air and poor ventilation
4.2.3.

Specific policy ofr celiac students living with a host family
When a student suffers from intolerance to specific foods or suffers from an illness, the family is obliged to supply specific menus appropriate to the relevant condition, provided that the student informs the family about the foods they cannot eat .
Students need to cover the cost of the food products if their price exceeds the normal price for the same products in the grocery store . In order to do that, the family needs to let the student know beforehand what the extra charges for the products are and then the student can agree with the purchase .
Gluten is a protein present in cereals such as wheat, barley, rye, triticale (a mix between wheat and rye), and oats . The family should never provide food products that contain these ingredients to the student.
4.3. Alojamiento en residencias universitarias
Las plazas son limitadas. El envío de la solicitud y el justificante de reserva no garantizan la plaza.
La estancia en Residencia se contratará, obligatoriamente, por periodos idénticos al programa seleccionado. Será necesario el pago completo y previo para la reserva de plaza.
Nuestros precios no incluyen:
Gastos de transporte.

Lavandería de ropa personal que exceda de los tres lavados incluidos.

Teléfono.

Actuaciones sobre averías y deterioros causados por un uso no normal de las instalaciones.

El exceso sobre la media mensual de los gastos de consumos, que será repercutido de forma proporcional sobre cada uno de los residentes de la vivienda afectada.




Alcalingua no se responsabilizará de los objetos y bienes personales depositados en las Residencias Universitarias ni en su urbanización.